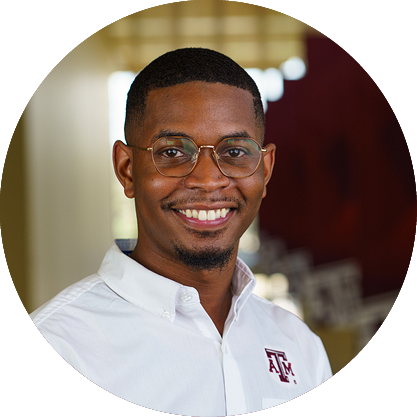 Juwan Andrews
Regional Advisor
Alabama, Arkansas, Florida, Georgia, Louisiana, Mississippi, North Carolina, Oklahoma, South Carolina, Tennessee, Puerto Rico, and U.S. Virgin Islands

Specialty: Freshman, Transfer


979-402-7407




sjandrews1906@tamu.ed



My advice for prospective students:
Do your very best not to procrastinate on completing the college application. I'm here to help you navigate the application process, so please feel free to reach out! Checking your email will be vital.
My advice for admitted students:
Make it your goal to join 1-2 of TAMU's 1,100+ student organizations to develop your soft skills and make lifelong friends.
Please feel free to email me or register for an appointment below.
---
Out-of-state prospective students in the South have specific advisors to help you learn more about becoming an Aggie. If you have questions about the Texas A&M University admissions process, financial aid, what to do after being admitted, academic success or something else, our advisors can provide answers and support. 

To display and register for an appointment, select an available date from the calendar.